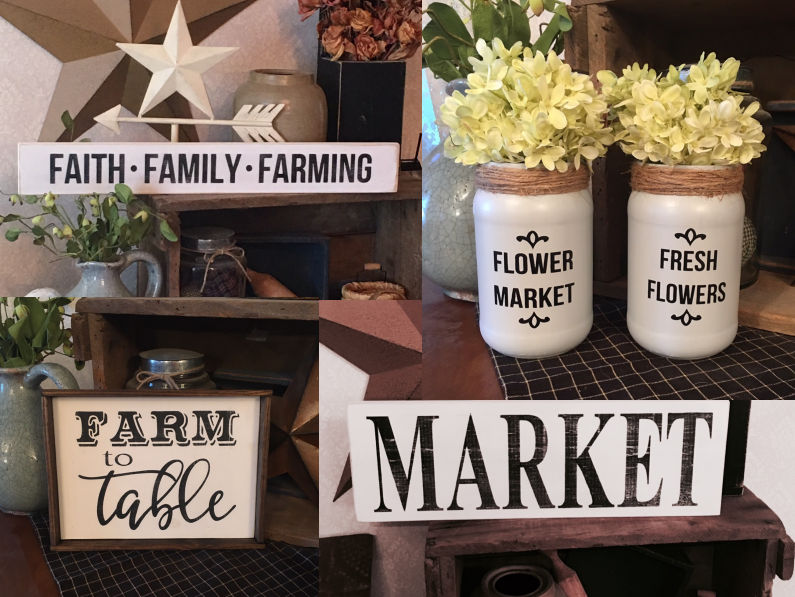 Welcome!
I'm glad you stopped by.
Please take a moment to read.
If you have any questions, please contact me.
I'm happy to help.
_________________________________________________
These Are Not Signs
I sell stencils so you can make your own signs. Most of my pictures are
of signs I have made using the designed stencil. I like to try them first
before I offer that design for sale. I want them to be just right
for you and I feel the best way to do that is to try them first myself.
This way you can have an idea of what the sign will look like finished.
I have a pretty good selection that is growing all the time,
so please check back often.
Because of really high demand, I'm starting to find less and less time to get to my workshop to make the signs, so I will start adding some of my designs here that I have not made a sign for yet. I really appreciate my customers and want to be able to offer new designs more quickly. Thanks so much!
Material
I use 5 mil clear polyester film (plastic sheets) for my stencils.
5 mil = 5-thousandths of an inch (0.005 inch) "Mil" is the gauge, not millimeters.
It is most definitely reusable but it is not like the really thick stencils that you can find at craft stores. These stencils are durable.
If properly cared for, they will last for years. I have been using the same stencils for eight years.
I have never washed my stencils but if you feel the need to wash them, washing is possible.
I will include more information in the form of a Stenciling Tips sheet with first-time orders.
Sizes
Stencil sizes are the size of the actual stencil (edge to edge) not the size of the letters.
I give you the size of the stencil so you will know what size board to use.
Shipping Costs
Shipping is $3.50 per order. Order one or order ten
stencils and you will still pay the same.
*This is for first class shipping.
*If you wish to upgrade your shipping to anything besides first class,
I can send you a PayPal invoice for extra shipping charges.
US shipping only. WE DO NOT SHIP INTERNATIONALLY.
Shipping Times
I am the only person who runs my business and at times
I get a little backed up. Please allow up to 7 business
days for your stencils to ship. This is shipping time, not arrival time.
I will try to ship as soon as I can and normally ship very quickly. All orders will be cut in
the order which they are received.
Coupon Info
Occasionally, I offer coupons.
If you have a coupon code, please follow instructions exactly for that coupon code.
Some require a minimum purchase.
This means your subtotal has to meet the minimum requirement.
*Coupons cannot be used on custom orders.
*Coupon code must be entered at checkout for the current purchase.
Adjustments will not be given for previous purchases where a code was not entered.
Custom Requests
I occasionally take custom orders. Please use the
contact form to message me with your request.
Custom stencils are limited to three custom stencils per order. Custom
work is not started until payment is received and that includes sending
any font samples. A proof will be sent for approval prior to cutting. Custom
stencils are not refundable. I do not offer coupons or discounts on custom orders.
*Please note that if I make a custom stencil,
it could end up on my website. If you would like your custom stencil
to remain exclusively your custom, that must be
mentioned at the time you order. Thank you for understanding.
__________________________________________
Some of my categories may still be empty. That's because I'm still working on the designs for those.
If you have any suggestions for new stencils, please use the contact form to send me a message.